Oh how I love General Conference! I was just amazed at the power of this General Conference. It seems as the world grows more wicked the Savior imbues his church with added power and courage. I felt so renewed as I listened to the divine messages of our inspired leaders.
In particular, I heard messages about the Holy Ghost and much encouragement to listen to and follow His promptings. I felt the Holy Ghost throughout each session as I listened, testifying of the truth of the messages and their relevance in my life.
During the closing session of the Saturday morning session, the Mormon Tabernacle Choir was singing "Come, Come Ye Saints". It was a beautiful version and as I listened I thought of my grandma Brady and the saintly woman she was. She had many struggles in life yet was always valiant. It brought tears to my eyes as I thought of her and felt the strength of her spirit. Suddenly, from the kitchen table McKay's voice permeated my thoughts as he said, "Mom, I feel like I'm about to cry." I asked him why and he said he didn't know. It was a beautiful opportunity to help him understand he was feeling the Holy Ghost through the beautiful song. I told him I felt like I might cry too because the Holy Ghost was touching my heart they way it was touching his. I'm so humbled by moments like this that allow me to teach the amazing little spirits the Lord has entrusted to me.
I was inspired by the messages directed to the women of the church. I am a covenant daughter of God and it is my desire to fulfill the mission the Lord has for me and to do it well! I want to be a woman like this: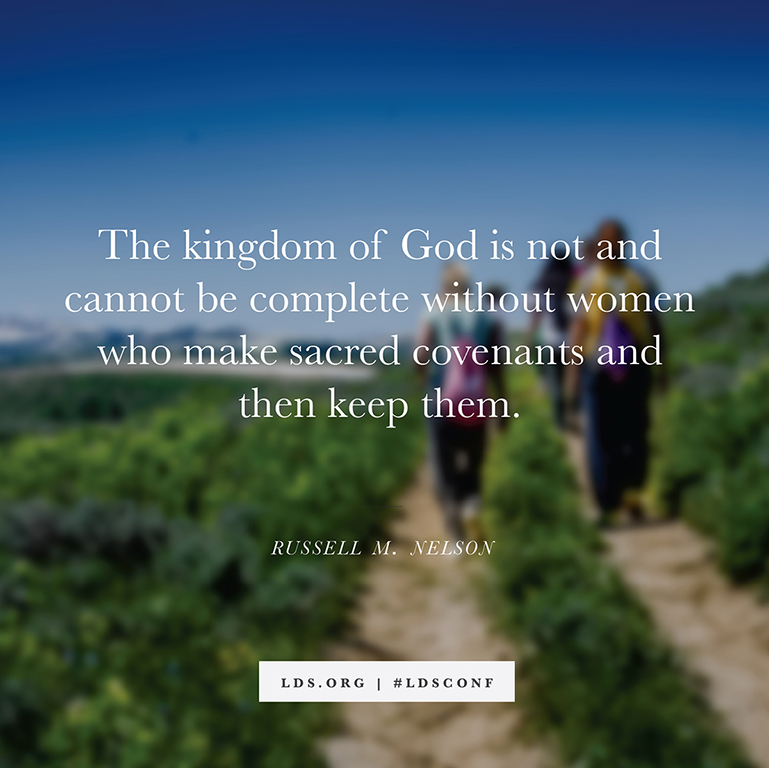 As a young mother, I want more than anything to have happy, healthy, joyful children, who know who they are, and have a love for and relationship with their Heavenly Father and Savior.
I have given up some things this year that mean a lot to me in order to be a better mother. I know it is my most important role--the most useful, vital, and significant role I have. Yet so often I feel so incapable of meeting the demands of my young family. The amount of mental, emotional, physical, and spiritual work it takes to be a good mother is both overwhelming and exhausting. Over the last several months Kate has struggled with digestive issues and Lily with immune issues. Lily is often seriously ill and Kate, since birth, has rarely slept longer than two hours at a time. This leaves me full of worry and deplete of energy. Though I try my best, I often fail to be the cheerful, tidy, energetic, creative, fun mother I wish I were. From this vantage point, Elder Holland's words were my balm in Gilead. More than anything, I don't want to fail my children or the Lord in the work of our family. Elder Holland's words soothed my weary soul. "No love in mortality comes closer to approximating the pure love of Jesus Christ than the selfless love a devoted mother has for her children."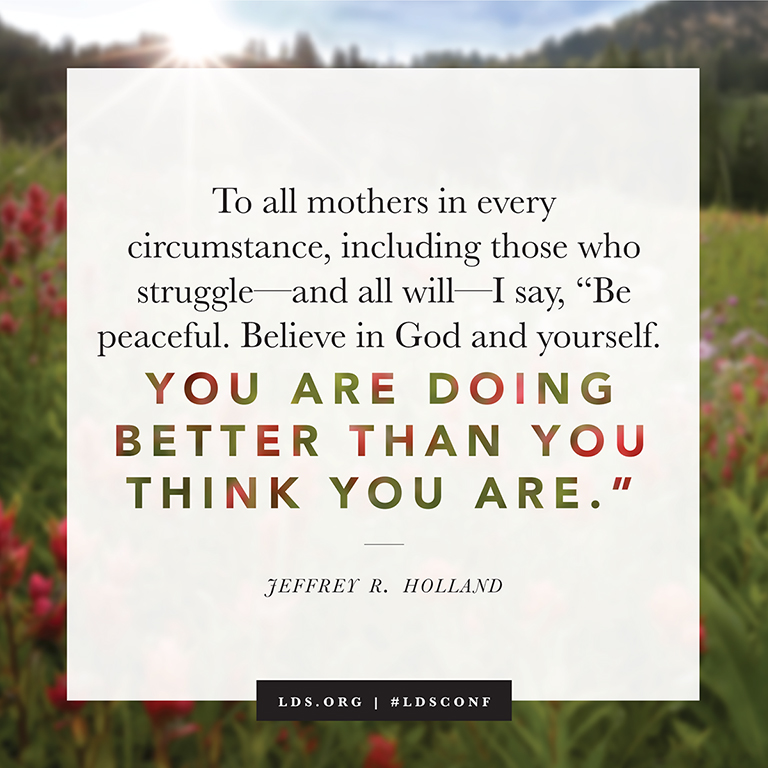 I love this quote. I summarizes my renewed determination: