BJ and I traveled to Italy two summers ago and have dreamed of returning ever since. We loved absolutely everything about it, except that we weren't able to visit all the famed cities we'd always heard about. Florence was one of those. So, BJ promised some day we'd go back together and see it.
Well, today we visited Florence! And boy was it memorable. While driving down the freeway on our way to visit The Gap Clearance Center i.e. The Happiest Place On Earth, we rounded a corner and were welcomed to Florence. Not exactly "Bongiorno" but a close second. There, gracing the Kentucky skyline was a giant water tower boldly declaring "Florence Y'all". We were both laughing so hard we almost drove off the freeway.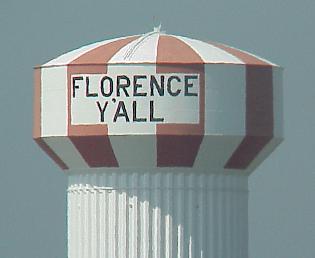 Come to find out, this lovely structure is actually a Kentucky landmark. No, I'm serious. Apparently in 1974 this water tower read "Florence Mall" to advertise the new mall constructed nearby. Once the sign was errected and the damage done, the Board of Highway Patrol or some such red tape bureaucratic organization informed the mayor that this water tower/billboard was above the legal advertising height and had to be repainted. Well, the mayor, being a practical man, didn't want to waste precious public funds on more paint, so he concluded that by simply changing the "M" to a "Y", the problem would be solved. $400 later, this Kentucky treasure was born.
So the next time y'all get the hankerin' fer a little vacation, just come on down to Kentucky and we'll take you to Florence. If nothing else, it will be a memorable trip. Besides, who wants pictures of famous art when y'all could have pictures of a gigantic Barnum and Bailey water tower?